Derwin Lau's Travelling Notes
Key travelling notes for the adventurous and first time explorers in the USA and Canada
Derwin Lau
It all started with the Yukon's Northern Lights. From these came my dream: to frame them with my own eyes and hang them in my room. My relationship with digital photography began with a compact point and shoot back in the 2006, and three years later I received my first DSLR from my grandfather. I became a landscape photographer by choice. It is not a career, but an excuse to discover the great outdoors and capture the bounties that Mother Nature has to offer. I was recently provided with an internship in San Francisco, and opted for a month of solo travel afterward. The experience was eye opening.
As a landscape photographer, the outdoors refine me. This is best done by travelling in National Parks. Having traveled for 30 days, the US National Park Annual Pass for USD $80 was a must-have. Normally, the National Park Fees grant you access for $30 per park per week. The annual fee is definitely the way to go if you want to hop through multiple parks over a span of 3 weeks. Plus, the pass grants you access to the express lane so you can skip the queue on busy weekends, giving you more time to scout, compose, and take the shot. The green valleys at Yosemite National Park, cool lakes of Grand Tetons National Park, unique rock formations at Bryce Canyon National Park, spectacular falls in Oregon County, and stunning sunset at Crater Lake National Park are just a few highlights of my trip that I recommend visiting.
Car rental in the States was affordable as the price included complimentary full insurance coverage. As a recent graduate that relied on my savings to travel, I think this merits an additional commendation. I hired a compact sedan priced as little as USD $25 per day. Three important documents were required to rent a car in the States: an acceptable driver's license, a passport, and a credit card. The latter is not to be confused with a debit card. On the last 10 days of my US trip, I was part of another road trip that almost went horribly wrong when my mate provided a debit card for our booking. Another really disheartening experience was that we invested extra money in renting an SUV with 4-wheel-drive and we could not drive it off-road per the user agreement. This quenches some, if not all, the excitements of driving an all-terrain vehicle. This disappointment only gets worse when driving through the most untouched and pristine landscapes, only available by way of un-sealed roads. It was as if those places are calling to me, and it is a pity that I could not get to them (such as Death Valley National Park). In summary, airport SUV rental does not allow you to drive off road and are only economical for travelling with excessive luggage.
Going from point A to point B on such a tight schedule demanded prolonged night driving. It was difficult at the start, but soon it became an easy habit. One thing that always put me on the edge was the frequent question of: how far until the next petrol station? Petrol stations in small towns often close early in the afternoon. For long range driving of 5 hours or more on the road, you should make sure that your petrol tank is always above 60% full before heading to the next park. I was overly optimistic one day in an attempt to save time reaching the next park and that bit me hard. I kept skipping stations after exiting the Great Basin National Park to get to Bend, Oregon. That evening, my petrol indicator lit up and forced me to camp out at petrol station until it opened. Save yourself the hassle–keep an eye on your gauge.
It was a challenge to book campsites without knowing precisely when I would reach base camp. But to top that off, I would not be able to do so anyway because sites can be booked up to 3 months in advance. As a short term visitor, advanced booking was difficult. The solution for me was to sleep in my car. It was not the most comfortable way to sleep, but it was unique, fast, and cheap. To combat cold nights, I invested in a good down sleeping bag to keep me warm. Having spent 80% of my nights sleeping in my car, truck stops proved great shower points where, for a few pennies, you can revive yourself easily.
Arriving at my destination around noon provided me with a generous amount of time to scout for sunset spots. National park hiking trails were well marked, so I felt comfortable venturing across them alone in the dark without fear of getting lost. Just be sure to have a pocket light on you. I recommend always having a tripod with you as a basic photography gear. Otherwise, you may be filled with regret for not having one when the perfect photo appears.
The power of word of mouth brought me to Really Right Stuff. After multiple recommendations from expert photographers, I settled on the Really Right Stuff TVC-23 carbon fiber tripod. Landscape photography critically demands stability at the front line of composition. As a premium support tool, the TVC-23 is extremely sturdy with a modest weight. Upgraded with RRS TA-3-FS Pod Foot Spike, my tripod's stability was greatly enhanced on loose terrain, and can act as an extra armament if you find yourself needing a defense in threatening situations. Spear fishing anyone?
I believe that post-sale customer service is a pillar of corporate success. The RRS team effectively delivered quality care and provided me repair services on multiple occasions despite me being located 12000 km from RRS Head Quarters in San Luis Obispo, California. RRS deserves much praise, and I encourage RRS to continue maintaining their corporate value in absolute perfection.
My Canadian trip followed in the same routine. Although I found Canada's scenery on par with that of the States, the cost of living was not as cheap as I had anticipated. For one thing, the Canadian telecom fees are quite expensive. Car rentals were pricier and did not offer complimentary CDW. My suggestion is to get a USA SIM and activate the roaming data. If I had more time, I would have kept my USA car rental and would have driven myself to Canada.
Nevertheless, despite the two countries being on the same continent, they each are breathtaking and worth exploring for their own merit. The States offered a plethora of landscapes and weather patterns that could arouse anyone's creativity. On the other hand, Canada exhibited its beauty through emerald lakes, ginormous glaciers, and hidden away waterfalls. Because of the latter, I did wish that I could have extended my stay. Park Canada announced it will provide free admissions to all of its national parks in 2017 to commemorate the 150th Anniversary of the Canadian Confederation. This looks like a golden opportunity to relaunch myself into the Canadian wilderness, and I hope that you will take this chance to explore as well.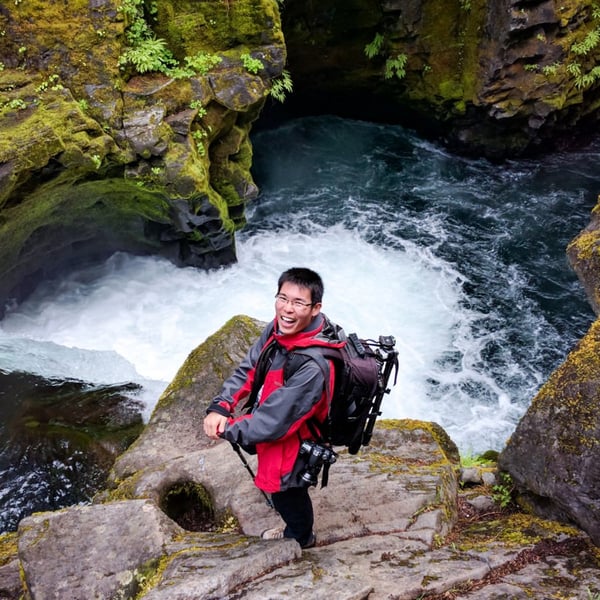 Derwin is currently a Ph.D. student studying Photovoltaic Engineering at the University of New South Wales – Australia. Beginning in 2006, he took aspiration in digital photography as a freelance hobbyist to showcase the beauty of Mother Nature through his own eyes. Derwin is often seen travelling together with his twin brother, Derrick. Since 2006, the twins combined photography with camping to explore and expand their creativity in landscape photography.