Antarctic Expeditions Part 1
Choosing an Antarctic Expedition: Part 1
Joshua Holko

–
Over the last six plus years I have been fortunate to travel and photograph in Antarctica more times than I can easily recall. As a polar specialist, my photographic travels to the great white continent have given me great insight into what works and what doesn't in terms of clothing, equipment, and accessories. But perhaps more importantly it has provided me very significant insight into the things you should know and consider before you make the decision to join any photographic expedition to Antarctica. If you like, this is perhaps a guide to choosing and planning your Antarctic expedition. It is an unabashed and unbiased look at the real facts of Antarctic travel and it contains information about the realities of Antarctic travel that expedition companies simply will not readily divulge… and if they do, their words will be selective to suit their sales needs. In short, this information is critical to your Antarctic experience and as such you would be well served to allow these insights to guide your decision making process. Before we begin however, while I will make every effort to stick strictly to the facts based on my own experiences, it's prudent that you keep in mind that the expedition industry is a dynamic and fluid environment. You should also keep in mind that photography is the first and foremost consideration in these articles. With that said, let's deal with the biggest decision you'll need to make once you've decided you want to photograph in Antarctica:
Should you sail or fly?
Irrespective of your decision, you will almost certainly have to get yourself to either Ushuaia or Punta Arenas at the bottom of South America (Note: there are expeditions that depart from New Zealand and Tasmania but both are sail only options that require a considerable investment in time).
Ushuaia is located at the bottom of Argentina and Punta Arenas at the bottom of Chile. From here, the decision to fly or sail to Antarctica will have a very significant impact on both your wallet and your overall experience. Speaking frankly, nothing puts fear into people like the thought of being violently sea sick for days at a time in huge swells as you bob like a cork across the Drake Passage (i.e. the narrow stretch of water between South America and Antarctica). It is one of the wildest stretches of ocean in the world and its fearsome reputation has become legendary amongst mariners and land lubbers alike.
So, what about flying instead?
Here is my take on the option of flying to Antarctica after having both flown and sailed on countless occasions. Firstly, lets deal with the truth about the infamous Drake Passage. On average, the Drake takes approximately two days to cross via ship from the tip of South America to the tip of the Antarctic peninsula at a speed of approximately 10–11 knots.
Vessels under sail will take longer depending on prevailing winds and faster ships will obviously take less time. Currents, winds and weather all throw an additional variability into the travel time mix. Whilst the Drake can be a roller coaster ride with huge waves thirty feet or more (Drake Shake), it can also be equally calm with only very minor swells (Drake Lake). In truth, when I look back at the many expeditions I have completed over the last few years I have experienced as much 'Drake Lake' as 'Drake Shake.' In fact, I would say, on average, that the seas have been quite moderate most of the time. I don't want to lead you astray with my experiences as the Drake's fearsome reputation is well earned and the Drake is to be respected above all.
However, you shouldn't fear a Drake crossing even if you are prone to seasickness. All the expedition ships are equipped with Doctors who are equipped with significant quantities of the very latest sea sickness medications. The key is to medicate before you start to feel sick. With proper medication before the onset of sea sickness even a rough Drake crossing can be enjoyable. The good news is, once you arrive in Antarctica the seas are significantly calmer and you can expect any sea sickness you might have experienced to quickly subside and disappear.
The Antarctic Peninsula is comprised of a great many sheltered straits, coves, bays, and inlets. The expedition ship's captain will have great experience in navigating them based on prevailing weather conditions. Therefore, once you arrive at the Peninsula you can expect smooth sailing most of the time. Additionally, there is a more ephemeral factor to consider when you choose a sail-to-Antarctica expedition. There is something quite romantic and special about sailing across the Drake passage. Antarctica is one of the hardest to reach and most remote places you can visit on the planet. Arriving at the Peninsula after two days sailing really is akin to travelling to another planet. A great many photographers who have traveled with me to Antarctica over recent years have remarked that crossing the Drake is just part of the allure and romantic charm of an Antarctic expedition.
I have to say that I wholeheartedly agree with them.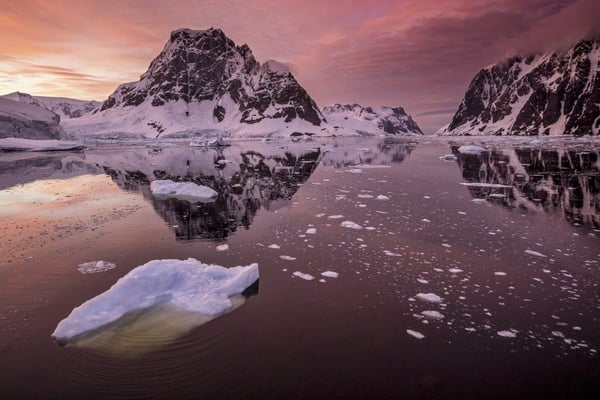 As an aside, here is a tip if you are prone to sea sickness and you have decided to sail to Antarctica. When you book onto your expedition, request a cabin on a lower level and closer to the middle of the ship. Such cabins experience the least movement during a rough crossing and are the most comfortable place to be during any rough weather. Whilst you might be tempted to go for a top cabin with a porthole view the reality of an Antarctic expedition is that outside of the Drake crossing you will spend very little time in your cabin and really only use it for sleeping.
The top cabins are subject to the most movement during rough seas and are usually amongst the most uncomfortable places to be. They also cost more than the lower level cabins so you some money to boot!
Whilst the idea of flying to Antarctica and avoiding the Drake might seem highly appealing on the surface, you should be aware that the weather in Antarctica is extremely fickle and there are often very significant flight delays and cancellations that will quite literally destroy your well laid plans. It is not uncommon to be delayed for days (or even weeks) whilst you wait with increasing impatience and frustration at the bottom of South America for a suitable weather window for your flight. In the case of significant delays, expeditions can rack up back to back with people waiting to get onto a flight to the continent. Flights and entire expeditions can and have been cancelled entirely at short notice leaving you disappointed and out of pocket with significant investment in travel costs.
I have personally experienced delays more than a week on numerous occasions waiting for weather windows to fly to Antarctica. The experience is extremely frustrating and expensive (hotel bills rack up fast). On top of this, delays can mean onward trips and plans are severely disrupted. There is a domino effect of considerable inconvenience that will cause you significant stress and angst as your delay stretches out day after day.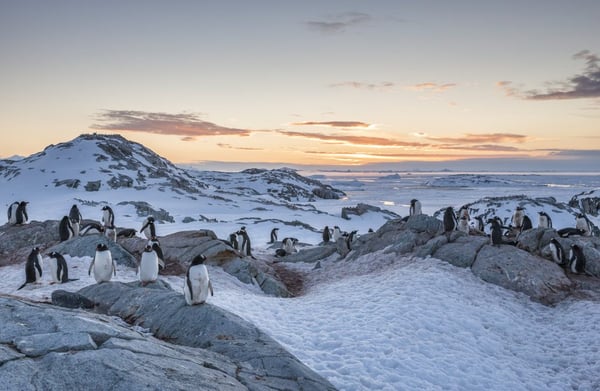 You also need to be aware and keep in mind that a plane ride to Antarctica is far removed from your average commercial flight. Antarctica serves up unique challenges that frequently make airline travel impossible. Katabatic winds, freezing temperatures, zero visibility, low cloud, fog etc. all frequently contribute to delayed and cancelled flights. If you make the decision to fly I recommend you allow an absolute minimum of one week for weather delays from the day your flight is scheduled to depart and that you plan for the possibility of expedition cancellation due to bad weather.
You should also plan ahead with hotels in South America as accommodation can be very difficult to extend at short notice should you be delayed (and in all likelihood you will be). In the past I have had to stay in very poor hostel accommodation because everything else was completely booked out as expeditions banked up and conferences came into town. I have had to bribe hotels to keep rooms for me when they were otherwise sold out and have had to move hotels on far too many occasions because of lack of last minute accommodation. Ideally, and if you can afford it, you should simply book a full week's accommodation from the date you are scheduled to fly in case of weather delays. This adds a significant cost to what is already a very expensive exercise in a fly trip to Antarctica.
Mindful of these pitfalls, fly Antarctic expeditions are often marketed to the unwary as a time saving option compared to sailing across the Drake Passage. Be aware however, that likely weather delays will very quickly erode your two day sailing time and you could well find yourself stuck at the bottom of South America waiting for a weather window for much longer than two days. Therefore the last reason you choose a fly option is because you are time poor. The inverse is actually true. If you are on a tight timeline a sail Antarctic trip is far more likely to meet its time schedule.
None the less, even if you do decide to fly to Antarctica you should keep in mind that your expedition will likely land either at King George Island (where you will need to board a ship) or at Union Glacier in the interior of Antarctica. In the case of Union Glacier, you have no alternative but to fly and you should therefore plan accordingly.
In the case of King George Island you should be aware that although you might have saved yourself a trip across the Drake you still need to board a ship to sail to the Peninsula and that your choice of ship is going to be critical to your experience. We will discuss at length how to choose the right ship for your expedition needs in part two of this series.
For now though, if you do decide to fly be sure to take out travel insurance that will cover you for as many eventualities as possible. Very few insurance companies (if any) will cover you for weather delays so you should make sure that the insurance you do have can at the very least help you with hotels on short notice and any pre-booked onward travels.
If you have status with a particular hotel chain (and there are not that many to choose from at the bottom of South America) you should definitely leverage this to maximize your ability to get a room at short notice if you are delayed.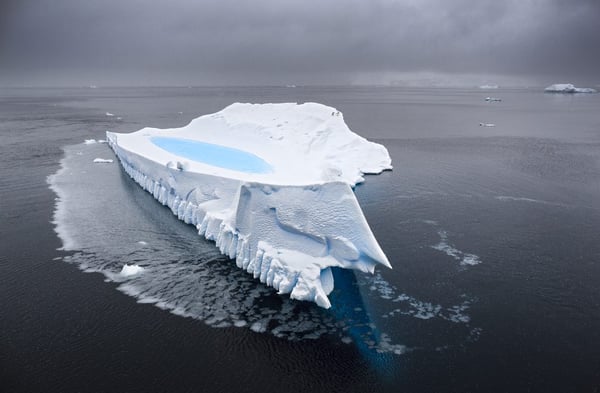 There is one more factor you should take into consideration before you choose a fly Antarctica expedition and that is the flight weight allowance. Whilst most commercial flights will allow you to take 10 kilograms or more of carry on camera gear, most flights to Antarctica will not. You can expect weight allowances of as little as 20 kilograms of checked luggage and as little as 5 kilograms of carry on luggage. These tiny allowances are simply insufficient for most photographer's needs (myself included). Unlike commercial airlines, I guarantee you that both your checked and carry on luggage will be very carefully weighed and inspected before you can board a flight to Antarctica. Excess baggage charges are frequently in excess of $60 USD per kilogram and you will be forced to gate check your camera bag if it exceeds the carry on weight allowance. No amount of kicking or screaming will relieve you of this last burden!
The long and short of the option to fly to Antarctica based on my own experiences is I advise against it – unless you have no alternative (such as flying into Union Glacier in the deep interior of Antarctica where ships cannot go). If you decide to take a fly expedition then you need to be prepared for significant delays in excess of a week at a time or even cancellations of flights and expeditions full stop. Whilst this might all sound rather dramatic I can assure you from significant personal experience that contingency planning is everything if you intend to undertake a fly to Antarctica expedition.
In the next installment of this series we will explore the very important decision of choosing an expedition ship appropriate to your needs. We will look at ship size, number of passengers, IATTO restrictions for landing, zodiacs, ship operations and logistics, and a whole lot more.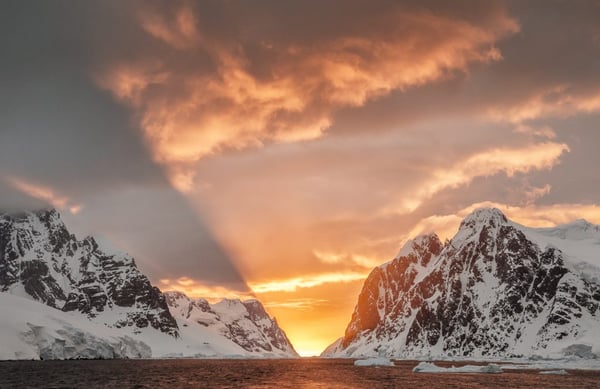 Joshua Holko
is a full time professional Nature photographer who specializes in polar photography. Joshua is a fully accredited AIPP Master of Photography and member of the Australian Institute of Professional Photographers (AIPP). He has won countless awards for his photography including being named the 2015 Global Arctic photographer of the Year. Joshua is officially represented by Philip Kulpa and the Source Photographica Gallery in Australia and Aspen USA.
Words and images ©2017 Joshua Holko. All rights reserved.