The RRS Portable Macro Stand Setup By George D. Lepp
I've photographed for many years using the RRS Ground-Level Aluminum Tripod, TP 243. It's been great when I need a tripod for working in fields of flowers, such as those featured in my book, Golden Poppies of California, or whenever my subjects take me down to 17 inches and lower. But where this diminutive tripod really comes into its own is when it serves as the basis of a sure and steady high-magnification macro setup that I use both in the field and in the studio.
More recently, I've taken control of depth of field in my extreme macro work with subjects as diverse as ancient rock crystals, complex blossoms, insects, and snowflakes. The technique of focus stacking—combining multiple images captured at different focus points to achieve specific areas of sharpness or infinite detail—is the key, but it can require meticulous planning and execution. The TP 243 tripod coupled with an RRS Multipurpose Rail and a BH-55 or BH-40 Ball Head comprise the small, lightweight, rock-solid base that can accommodate a camera, lighting, and (when the camera I'm using does not offer focus bracketing) a focus-stacking accessory such as the StackShot from Cognisys. I do this kind of work so often that I have created a permanent setup by mounting the tripod to a ¾ x 24" square melamine board (using screws inserted through the holes in the spiked ends of each leg). It's always ready in my studio, and I can also move it to the field for outdoor subjects.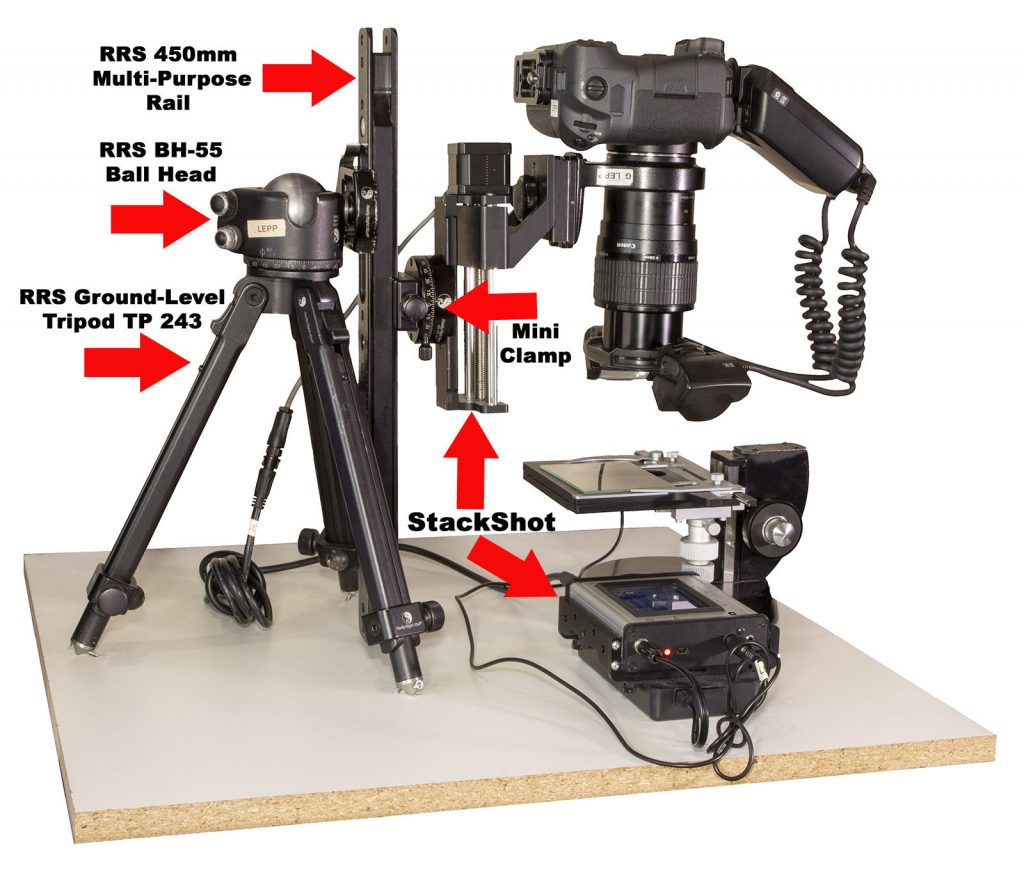 This is Lepp's portable studio/field setup for high-magnification, focus-stacked macro photography: The RRS TP 243 Ground-Level Tripod and 450mm Multi-Purpose Rail along with the Cognisys StackShot and a microscope base to help position macro subjects. The camera is a Canon EOS R with the MP-E65mm 1-5x macro lens and MT-24EX Macro Twin Lite flash
Snowflakes are among my favorite subjects, but they are fleeting. So it's necessary to photograph them in their own element—a snowstorm—with equipment cooled to the ambient temperature to deter melt. The flake is captured either on a black glove or on a small piece of glass, and the focus-stacked capture is accomplished with the StackShot. If the black glove method is being used, I'll compose the image at 5x to 8x magnification and use a Canon EOS camera with an MP-E65mm f/2.8 1-5x macro lens and the Macro Ring Lite MR-14EX II. To achieve a rich colored background, the glass holding the snowflake is elevated above a colored base and back-lit flash.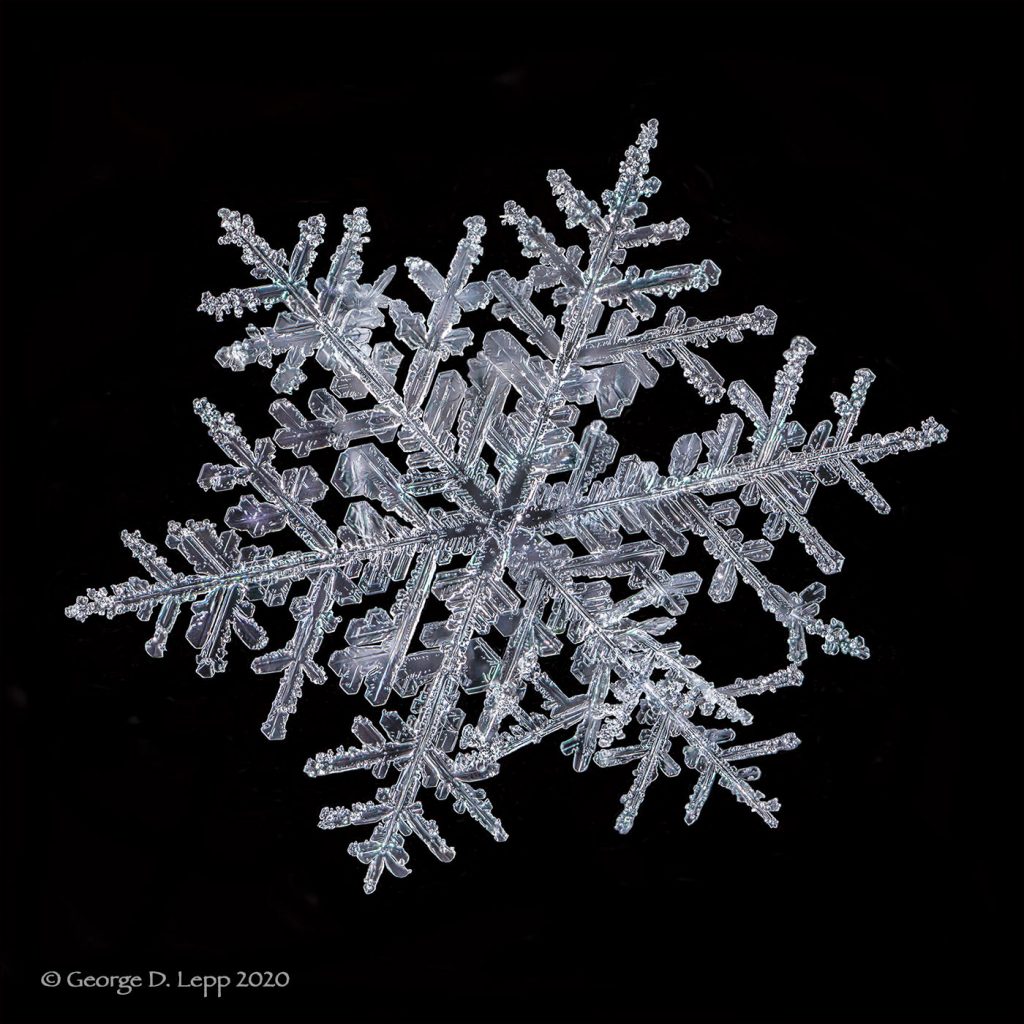 A snowflake photographed in its natural environment, using the TP 243 macro setup with a Canon EOS 5D MK IV camera and MP-E65mm 1-5x Macro lens at 5x and the MR-14EX II macro flash. 1/180 sec. @ f/3.5, ISO 200. 42 focus-stacked images composited in Zerene Image Stacker.
I also use this basic setup as my copy stand for duplicating film-based slides to digital image files. A slide holder attached to a thin, evenly lit LCD lightbox illuminates the slide from below; the duplication is captured in RAW format with a high-resolution digital camera and a 1:1 macro lens. With this system I'm able to quickly produce very sharp digital duplicates of older film-based images with a lot of information that can be extracted in post-capture optimization software.
A jasper and agate composite photographed with the 50.6 mp Canon EOS 5DS R, the MP-E 65mm 1-5X macro at 1X and the Canon MT-24EX Macro Twin Lite Flash. 1/180 sec. @ f/11, ISO 100; 6 focus-stacked images.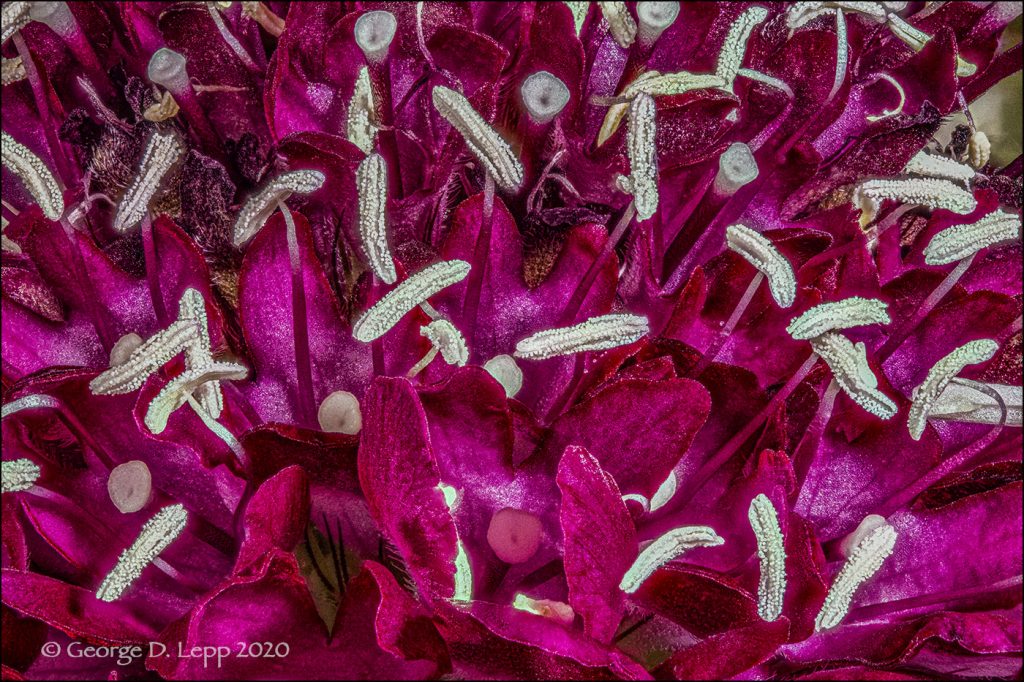 At 1.6x, the complexity and detail of a single flower head are revealed with 106 composited images captured with the Canon EOS 90D and EF 100mm f/2.8L IS USM macro lens, using the camera's built-in Focus Bracketing feature. 1/125 sec. @ f/8, ISO 200 and LCD macro photographic lights.

I find it somewhat ironic that this RRS setup serves both as the basis for some of my most technically sophisticated, state-of-the-art photography, and also enables me to recapture my old film images, giving them new life in the digital world. Thank you, RRS!
About George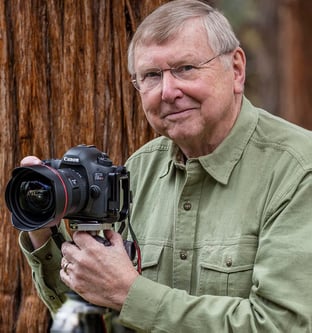 One of North America's best-known contemporary outdoor and nature photographers and a leader in the field of digital imaging, George Lepp is the author of many books and hundreds of nationally and internationally published articles about the creative, ethical, and technical aspects of nature photography. He is a Canon Explorer of Light, Field Editor of Outdoor Photographer Magazine, and has won many awards for his work, including Photo Media's Photography Person of the Year, the Photographic Society of America's prestigious Progress Award, and the NANPA Lifetime Achievement Award. See more at www.GeorgeLepp.com.
Why I Use RRS Gear
I'm known for pushing the limits of photographic equipment and technique—and even inventing new equipment—to achieve precisely the result I'm looking for. I've worked with Really Right Stuff since the company's beginning, and I know I can rely on RRS people and RRS gear to be the best in support and advancement of all of my photographic aspirations.