Behind the Shot with Karen Hutton
THE DAY
Lake Tahoe, CA. It's been the biggest winter around here in over a decade. Over 25 feet of snow fell in about a week and a half in January… and all of a sudden, life here in the mountains got really interesting!
Emerald Bay on Lake Tahoe is a super popular spot. Tourists, photographers, locals… everyone loves its unique beauty. But the 72 mile road around Lake Tahoe tends to close in this spot during big snow winters, on account of the avalanche danger. Such was the case this year; up until this day, the road had been closed for weeks. I knew this, because I checked Google maps every day, just for fun.
Then, one afternoon where writing, processing photos, and other computer-y work was the entire day's plan, I looked at the map and… voila! The road was open! To go… or not to go? That was the question.
We had a big storm coming in that night… which would probably mean the road would be shut down again. I tussled the age-old dilemma of duty vs. art, but my pledge this year is to listen to my inner voice more, question it less. What can I say? It hollered GO! And so I WENT!
I had no idea if there'd be light, rain, snow, or any visibility at all. But you gotta play to win, so I figured if nothing else it would be nice outing, some fresh air, and a good reiki. The massive amount of snow had changed the landscape enormously; I wanted to know what it had done to this area.
By the time I got to Emerald Bay, it was late afternoon and I didn't have time to hike anywhere major; I'd have to stay in a more publicly accessible area. But my motto is work with what you've got and get going! I spotted a rare spot beside the road that was cleared of enough snow to park, grabbed my snowshoes, and got busy.
Working my way around the area, I ended up in a place where I'd never be able to stand in the summer… but snow fills everything in and opens up terrain that you couldn't access otherwise. With snowshoes, you basically just walking on top of everything… shrubs, huge rocks, small trees, the works.
There was still enough time before sunset that I could investigate my best spot, should some color develop. In fact, I could see a touch of color in the clouds already to make me want to hang out and see what developed. But looking behind me (where the sun actually sets), I could see the dark storm clouds building in, making the whole notion a bit of a crap shoot. Still… hope springs eternal!
The clouds were interesting though. Ditto the ice in the lake, the tones, textures, patterns… and heck, I was outside in my element! No matter what, I figured I was #Winning.
THE GEAR
Given the situation, I decided to create some different perspectives by using both my Fujifilm X- T2 with 50-140mm f/2.8 telephoto lens and Fujifilm X-T20 with 16-55mm f/2.8 lens. Both are weather sealed, which made me ready for anything the heavens had to offer.
Here's an image taken with the telephoto. Hanging out waiting for the light to change always gives my imagination some time to play and challenges me to See Different.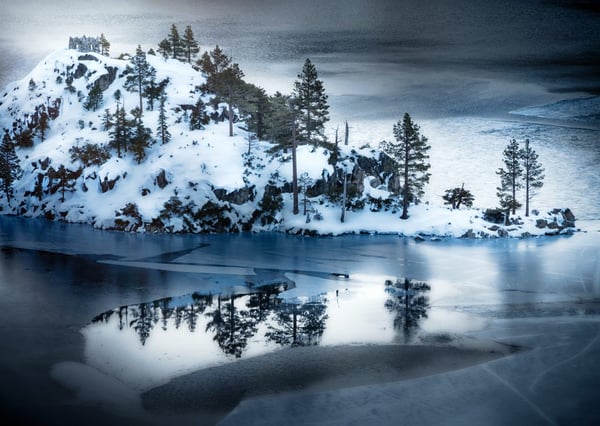 My go-to support rig is the Really Right Stuff TQC-14 and BH-40 ballhead combo. I set up in this spot first, but that tree in the center of the image bugged, so I quickly moved about a thousand yards to the left for a clearer shot.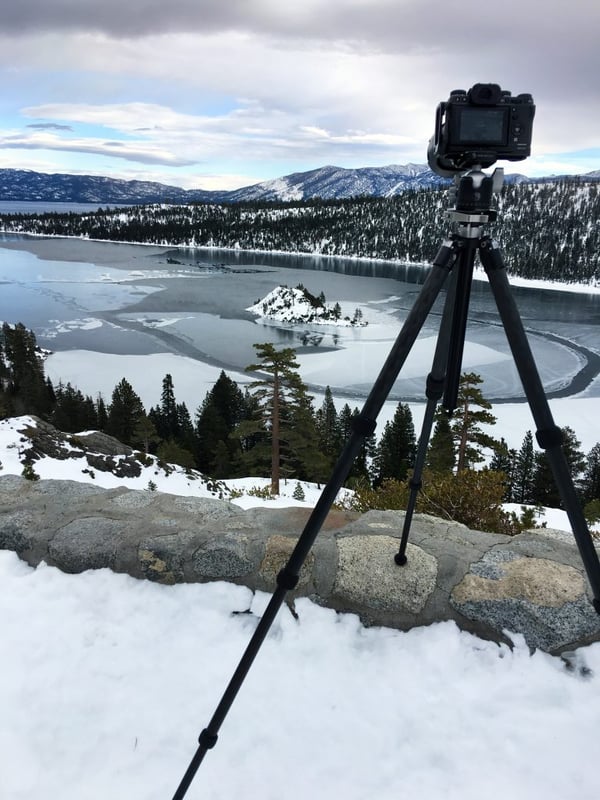 You might notice an additional Lever Release Clamp below the ballhead. That's because I like to be able switch between the BH-40 and my PG-01 gimbal at a moment's notice. I detest fussing with gear, so the clamp allows me to make the switch so quickly I don't miss a beat. It's a bit different than the norm, or so I hear, but it works for me.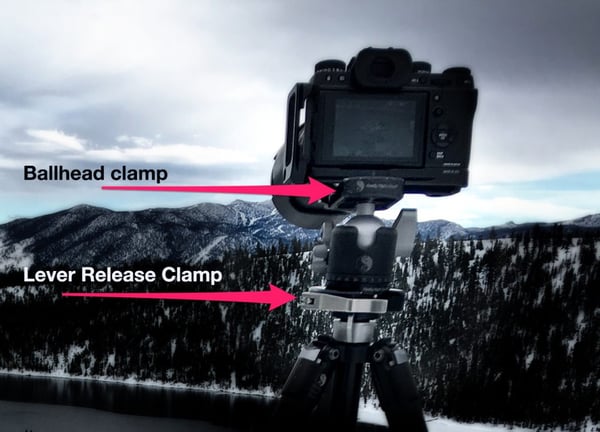 One of the things I love doing is creating abstractions of a place. It's fun to arrange elements in different ways so that they tell their tale from a completely different perspective than the "big picture" or "hero" image that might have drawn you to an area in the first place.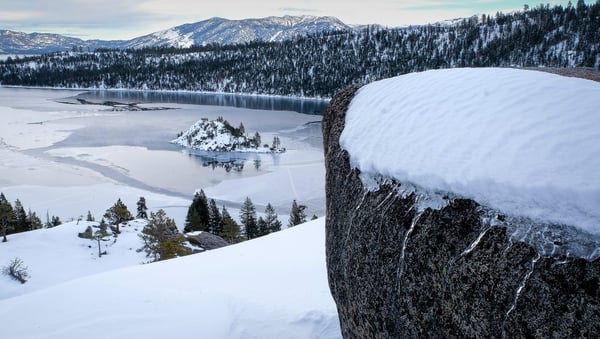 That day it was windy, which always makes me glad that I've got Really Right Stuff supporting my gear. Around here, I need a sturdy, unfussy tripod/ballhead combo that doesn't weigh me down. Not to mention one with great ergonomics! A lifetime of training horses and working with my hands have made them sensitive and sometimes achy in the cold, especially if I have to wrench on stubborn knobs, levers, and grips. There's nothing stubborn about my Really Right Stuff gear though. Whether I'm dealing with bulky winter gloves and sub-zeros temperatures or simply occasional joint aches, my gear always easy-peasy to operate. It's one of the reasons I fondly refer to it as "The Only Right Stuff".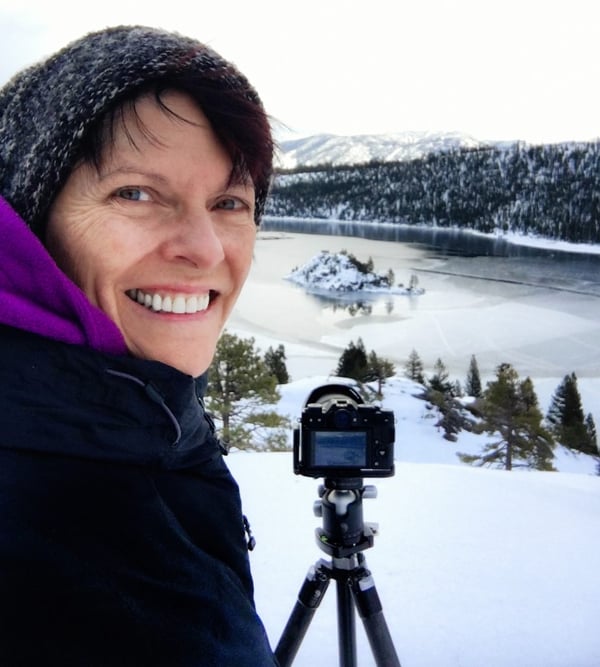 THE REWARD
Finally it happened! After holding hope against hope, the show started. And while it didn't last long, it had the loveliest pop to it and was the perfect end to an unexpectedly delightful day. I got back in my car with a smile on my face – and went home one happy camper!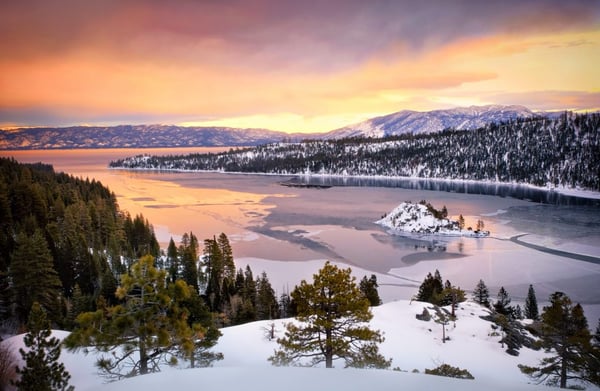 Karen Hutton is an International Landscape and Travel Photographer, Artist, Speaker, Author, Educator, and Voice. She has over 2 million followers on social media; with over 11 billion views of her photographic work. She is a Professional Fujifilm-X Photographer and has been featured in Talks at Google, Photo Plus Expo and on Stuck in Customs, TWiP, Macphun Software, Forbes.com, The Grid, and Rick Sammon's DPE Podcast. Karen lives in the Sierra Nevada mountains of California. You can find her at Karenhutton.com. Words and images ©2017 Karen Hutton. All rights reserved.